Horizontal Fertilizer Mixer
Send email to us
Product Detail
Product Tags
The Horizontal Fertilizer Mixer Machine has a central shaft with blades angled in different ways that look like ribbons of metal wrapped around the shaft, and is able to move in different directions at the same time, ensuring that all ingredients are blended in. Our Horizontal Fertilizer Mixer Machine can go with other auxiliary equipment such as belt conveyor or inclined belt conveyor for the whole fertilizer production line.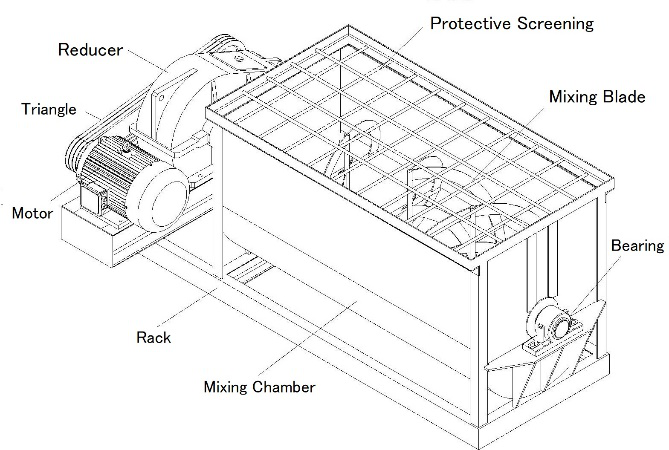 Mixing is one of the important operations in whole fertilizer production line. And the is Horizontal Fertilizer Mixer Machine considered to be the basic and efficient equipment for mixing of dry granules, powders and other additives. The horizontal fertilizer mixer is mainly used to mix the material well with one or more auxiliary materials or other additives in the powder fertilizer production process or the pellet fertilizer production process.
The Horizontal Fertilizer Mixer Machine is widely used in the solid-solid (powder material) and solid-liquid (powder material & fluidity material) mixing in the field of fertilizer industry, chemical industry, pharmacy, foodstuff industry, etc.
(1) High active: Rotate reversely and throw materials to different angles;
(2) High uniformity: Compact design and rotated shafts be filled with hopper, mixing uniformity up to 99%;
(3) Low residue: Only small gap between shafts and wall, open-type discharging hole;
(4) The special design of the machine can also break up larger material;
(5) Good appearance: Full weld and polishing process for mixing hopper.
There are many Horizontal Fertilizer Mixer Machine models, which can be selected and customized according to the need of user output. Its main technical parameters are shown in the table below:
| | | | |
| --- | --- | --- | --- |
| Model | Capacity(t/h) | Power (kw) | Speed (r/min) |
| YZJBWS 600×1200 | 1.5-2 | 5.5 | 45 |
| YZJBWS 700×1500 | 2-3 | 7.5 | 45 |
| YZJBWS 900×1500 | 3-5 | 11 | 45 |
| YZJBWS 1000×2000 | 5-8 | 15 | 50 |
---
Previous:
Double Shaft Fertilizer Mixer Machine
Next:
Disc Mixer Machine
---
Write your message here and send it to us