Cyclone Powder Dust Collector
Send email to us
Product Detail
Product Tags
Cyclone Powder Dust Collector is a type of dust removal device.  The dust collector has higher collection ability to dust with larger specific gravity and thicker particles. According to the concentration of dust, the thickness of dust particles can be used as primary dust removal or single-stage dust removal respectively, for corrosive dust-containing gas and high-temperature dust-containing gas, it can also be collected and recycled.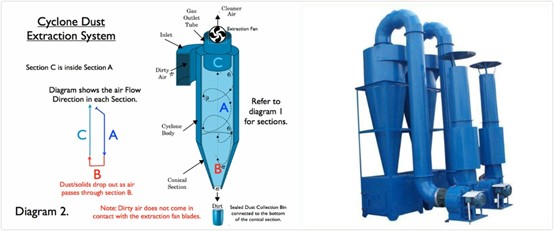 Each component of the cyclone dust collector has a certain size ratio. Any change in this ratio can affect the efficiency and pressure loss of the cyclone dust collector. The diameter of the dust collector, the size of the air inlet and the diameter of the exhaust pipe are the main influencing factors. In addition, some factors are beneficial to improve the dust removal efficiency, but they will increase the pressure loss, so the adjustment of each factor must be considered.
Our Cyclone Powder Dust Collector is widely used in metallurgy, casting, building materials, chemical industry, grain, cement, petroleum, light industry and other industries. It can be used as recycled material equipment to supplement dry non-fibrous particle dust and dust removal.
1.There are no moving parts inside the cyclone dust collector. Convenient maintenance.
2. When dealing with large air volume, it is convenient for multiple units to be used in parallel, and the efficiency resistance will not be affected.
3. Dust separator equipment cyclone dust extractor can resist high temperature of 600℃. If special high temperature resistant materials are used, it can also resist higher temperature.
4. After the dust collector is equipped with wear-resistant lining, it can be used to purify the flue gas containing high abrasive dust.
5. It is conducive to recycling valuable dust. 
The Cyclone Powder Dust Collector is simple in structure, easy to manufacture, install, maintain and manage.
 (1) Stable operating parameters
 The operating parameters of the cyclone dust collector mainly include: the inlet air velocity of the dust collector, the temperature of the processed gas and the inlet mass concentration of the dust-containing gas.
 (2) Prevent air leakage
 Once the cyclone dust collector leaks, it will seriously affect the dust removal effect.  According to estimates, the dust removal efficiency will decrease by 5% when the air leakage at the lower cone of the dust collector is 1%; the dust removal efficiency will decrease by 30% when the air leakage is 5%.
 (3) Prevent wear of key parts
 The factors that affect the wear of key parts include load, air velocity, dust particles, and the worn parts include shell, cone and dust outlet.
 (4) Avoid dust blockage and dust accumulation
 The clogging and dust accumulation of the cyclone dust collector mainly occurs near the dust outlet, and secondly occurs in the intake and exhaust pipes.
We will design   the Cyclone Powder Dust Collector of appropriate specifications for you according to the model of fertilizer drying machine and the actual working conditions.
---
Next:
Pulverized Coal Burner
---
Write your message here and send it to us