Disc Mixer Machine
Send email to us
Product Detail
Product Tags
The Disc Fertilizer Mixer Machine mixes the raw material, consisting of a mixing disc, a mixing arm, a frame, a gearbox package and a transmission mechanism. Its characteristics are that there is a cylinder arranged in the center of the mixing disk, a cylinder cover is arranged on the drum, and the mixing arm is firmly connected to the cylinder cover. One end of the stirring shaft connects to the cylinder cover passes through the cylinder, and the stirring shaft is driven. The cylinder cover rotates, thus driving the stirring arm to rotate, and the transmission mechanism that drives the stirring shaft from the four-stage transmission mechanism.
 

Model

Stir machine

Turn speed

 

Power

 

Production capacity

Outer ruler inch

L × W × H

 

Weight

Diameter

Wall height

 

mm

mm

r/min

kw

t/h

mm

kg

YZJBPS-1600

1600

400

12

5.5

3-5

1612×1612×1368

1200

YZJBPS-1800

1800

400

10.5

7.5

4-6

1900×1812×1368

1400

YZJBPS-2200

2200

500

10.5

11

6-10

2300×2216×1503

1668

YZJBPS-2500

2500

550

9

15

10-16

2600×2516×1653

2050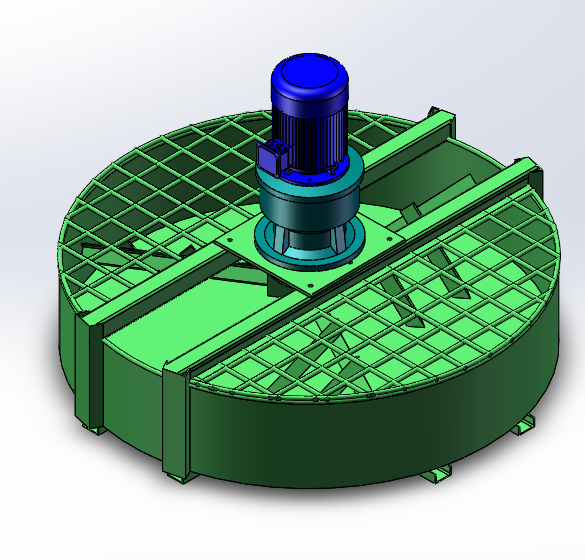 Disc/ Pan Fertilizer Mixer Machine is mainly used to produce mixtures of fertilizer raw materials. The mixer stirs evenly by rotating and the mixed materials will be transferred directly from the conveying equipment to the next production process.
The Disc Fertilizer Mixer Machine can mix all the raw materials in the mixer to achieve evenly and thoroughly mixing materials. It can also be used as mixing and feeding equipment in the whole fertilizer production line.
The main Disc Fertilizer Mixer Machine body is lined with polypropylene board or stainless steel material, so it is not easy to stick and wear resistant. The cycloid needle wheel reducer has the characteristics of compact structure, easy operation, uniform stirring, and convenient discharge.
(1) long service life, energy saving and power saving.
(2) Small size and fast stirring speed.
(3) Continuous discharge to meet the continuous production requirements of the entire production line.
| | | | | | | | |
| --- | --- | --- | --- | --- | --- | --- | --- |
|   | mm | mm | r/min | kw | t/h | mm | kg |
| YZJBPS-1600 | 1600 | 400 | 12 | 5.5 | 3-5 | 1612×1612×1368 | 1200 |
| YZJBPS-1800 | 1800 | 400 | 10.5 | 7.5 | 4-6 | 1900×1812×1368 | 1400 |
| YZJBPS-2200 | 2200 | 500 | 10.5 | 11 | 6-10 | 2300×2216×1503 | 1668 |
| YZJBPS-2500 | 2500 | 550 | 9 | 15 | 10-16 | 2600×2516×1653 | 2050 |
---
Previous:
Horizontal Fertilizer Mixer
Next:
BB Fertilizer Mixer
---
Write your message here and send it to us